Services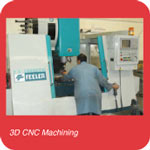 Product CAD modelling, generating the mathematical model that takes the
customer's idea through to the fi nished, machined or cast product.
Pattern making for one-offs or production castings.
Jobbing castings (one-offs) eg: street lamps, plaques.
Production castings for volume, eg: brake calipers, turbo compressor
housings, intercooler end tanks, general engineering castings.
Toolmaking, eg: expanded polystyrene (EPS) tools from product design to
finished tool, vacuum forming finished tools and roto mould tools.
In-house CNC machining: this service is for both production and jobbing
castings as well as castings used in our toolroom.
Aluminium welding (TIG).
Copyright 2008 - ANTRAC PTY LTD. All rights reserved. | Site Map | Telephone: +61 3 9720 0246 - Fax: +61 3 9720 0677